The Raw Materials Suitable to be Ground by Stone Pulverizer
2017-05-10 09:26
The particles ground by stone pulverizer is concentrated, therefore it can not be used to deal with the raw materials with level degree. Today I would like to tell you how to control the particle fineness, what affects the particle size, what raw materials the stone pulverizer suitable to process?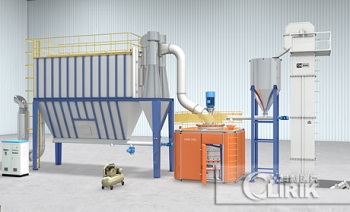 The formation of the raw materials, there are more fine powder in the raw materials before ground, it will affect the stone pulverizer in deeper degree. Because these fine powder are easy to stick in the
stone pulverizer
and influence the transportation. As for the fine powder content, we should select beforehand. Before working, the
stone pulverizer
should be examined whether the door is closed or not, whether the stone crusher is fit to the feeding size. We should adjust the classifiers' rotary speed in order to meet the requirements of finished size. Last but not least , we should operate the machine in order, and then add the raw materials in it and adjust the speed of motor to control the fineness of products.
Well what kinds of raw materials suitable to be ground by
stone pulverizer
? It is suitable for huge capacity producing, widely used in grinding non-flammable and non-explosive materials under 9.3(the Moh's hardness), such as quartz, feldspar, calcite, talcum, barite, fluorite, iron ore, copper ore quartz, especially for slag, cement clinker, zircon sand, fly ash and carborundum, coal, etc.
If you are interested in our stone pulverizer, please leave your buying messages in our website, we will send you the price details as soon as possible. Thank you.